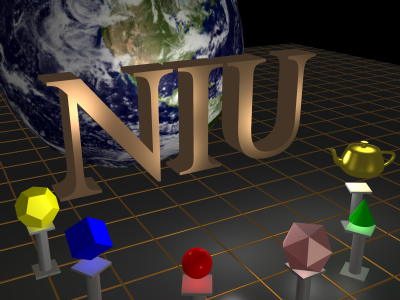 Welcome to the NIU Computer Imaging Laboratory.
We investigate many areas related to computers and images, including image processing, computer graphics, and computer vision. If it has pixels, we're interested.
People
These are some of the people, past and present, associated with the lab. Links to personal web pages, where known, are provided.
Jonathan Litfin
Edit Peronja
Projects
Here are some of the projects we're working on.
RD View - A framework for implementing rendering engines and a flexible scene description language.
WILSIM - A custom rendering engine used to visualize a landform simulation.
Data structures for representing geographic shapes.
We're just starting an investigation into the design of multispectral imaging systems using the techniques of computerized axial tomography.